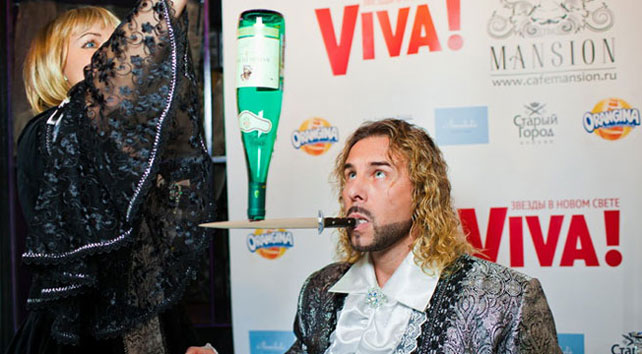 Magic of Balance
The original number "Magic Balance" is unique in its genre, thanks to the exclusive stunts which are worthy of the Guinness Book of Records. The artists present unforgettable emotions and summon genuine delight of the public in any event.
Performers high craftsmanship does not leave adults and children indifferent. What strikes the most is the skill and ability, not only to balance but also to juggle different objects made out of glass, without the help of hands. And all of this is balanced on a blade of a knife that is held in the artist's mouth.
The duet "Magic Balance" toured repeatedly in Japan, Taiwan, China , Sweden, New Zealand, Finland, Belgium, Holland, Latin America, South Korea, Turkey, United Arab Emirates, Israel, Czech Republic; participated in many international competitions, festivals and prestigious Gala shows.
These artists received applause from the first state faces including Russia.
Depending on the subject matter of the event duet "Magic Balance" can offer various versions of the show. It can be in a historical style, Venetian, piratical and also in modern evening dressing or national Russian costumes.
Ten minutes of breathtaking, emotional show with an interactive will produce an indelible impression on the most fine public!